BEIJING – Eye disease specialist Arctic Vision (Shanghai) Biotechnology Co. Ltd. has in-licensed from Clearside Biomedical Inc., an U.S. ophthalmology biotech, the commercialization and development rights of Xipere (triamcinolone acetonide suprachoroidal injectable suspension) for greater China and South Korea.
Under the license agreement, Clearside will receive $4 million up front plus additional milestone payments from Arctic Vision for achieving specified events before Xipere wins approval in the U.S. The payments may add up to a total of $35.5 million in development and sales milestones.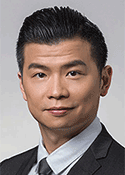 The U.S. biotech, headquartered in Alpharetta, Ga., also will be entitled to receive tiered royalties of 10% to 12% based on annual net sales of Xipere in greater China, which includes mainland China, Hong Kong, Macau and Taiwan, and South Korea. Its Chinese partner also may pursue the development and commercialization of Xipere for additional ophthalmic indications in those areas if Clearside agrees.
"Due to the lack of satisfactory treatment with optimal efficacy and safety in our region, patients living with uveitis are in great need of an innovative approach," said Eddy Wu, Arctic Vision's CEO and founder.
He said Xipere is a valuable addition to its growing portfolio of breakthrough treatments. The company has a vision of being a forerunner in China's ophthalmology market.
"Arctic Vision will provide updates related to the timing of development of Xipere in China," Clearside CEO George Lasezkay told BioWorld.
Developed by Clearside, Xipere is a suspension of the corticosteroid triamcinolone acetonide formulated for administration to the back of the eye for the treatment of macular edema associated with uveitis.
Clearside has a patented technology known as an SCS Microinjector that can deliver drugs to the suprachoroidal space located between the choroid and the outer protective layer of the eye. The technology enables access to the macula, retina and choroid where sight-threatening disease often occurs.
The ophthalmology-focused biotech said the SCS injection platform is "an inherently flexible, in-office, nonsurgical procedure." It can provide targeted delivery to the site of disease, while it can work with both established and new formulations of medications, as well as gene therapies.
In the case of Xipere, the technology enables rapid and adequate dispersion of the drug to the back of the eye, so Xipere can act longer and minimize harm to the surrounding healthy parts of the eye.
The partnership with Clearside is the first one announced by Artic Vision, which has emerged as a new eye disease player in China.
Established in May 2019 with a base in Shanghai, Artic Vision began with an in-licensing strategy to build a pipeline of three to five assets with greater China rights. It plans to gradually expand to a portfolio with global rights later on by inking in-licensing deals and using its internal discovery and development platform.
Currently, Artic Vision is seeking ophthalmic drugs with high commercial value. It has targeted gene therapies and rare eye diseases. It is estimated that some 721 million people in China, about half the country's total population, have uncorrected vision.
Before founding his own ophthalmology startup, Wu was at Terns China Biotechnology Co. Ltd., Allergan China and Novartis AG. He has more than 15 years of experience in molecular pharmacology, overseeing research and development activities in Asia Pacific, the Middle East and Africa.
"Arctic Vision is a specialty ophthalmology company in China led by a team of industry veterans who have substantial global experience at leading eye care companies, including Allergan, and expertise in launching eye care products in China, such as Ozurdex," Lasezkay told BioWorld.
The Chinese biotech is backed by Nan Fung Life Sciences and Pivotal Bioventure Partners, which has a broad network in Chinese, the U.S., and European ophthalmic markets.
Besides Arctic Vision, Clearside has another partner for developing and commercializing Xipere. Bausch + Lomb, the eye health business of Bausch Health Cos. Inc., obtained the exclusive license of Xipere in the U.S. and Canada. Clearside still holds the global ownership outside those territories and also the patents related to Xipere.
Lasezkay said through those licensing collaborations, Clearside is eligible to receive more than $200 million in potential future development and sales milestone payments, as well as royalties on net sales that can be used to further support its internal R&D efforts.
He said that inking the agreement with Arctic Vision "increases global awareness of our innovative suprachoroidal injection platform and validates our patented technology."